"We sleep safely at night because rough men stand ready to visit violence on those who would harm us."
― Winston S. Churchill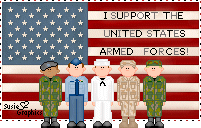 Veteran's Day at Hudson
Robin Thornton
Veterans Day is a time where the community gets together in order to honor all those who have served and given their lives for our country.
Held in the Hudson Gym, November 10 it is a morning event.
The local Veterans in our community come together and allow us to show our appreciation for their service through breakfast, music, and traditions such as the Taps and the fallen comrade table.
Taps is played by a bugle at flag ceremonies and military funerals, it is a song played to show respect and remembrance.
The missing man table or fallen comrade table is used as a sign of remembrance to the POWs and MIAs.
Speeches are given as well, used to reflect on the lives and experiences of all those involved with the military whether that be soldiers, veterans, or friends and family.
It is an emotional time for all those involved but a beautiful time in which we reflect and remember the biggest sacrifice one can give